Spring 2016
Williams Bar & Bistro

7-8 Park Place
St. James's London
SW1A 1LS
+44 20 7316 1600
info@stjameshotelandclub.com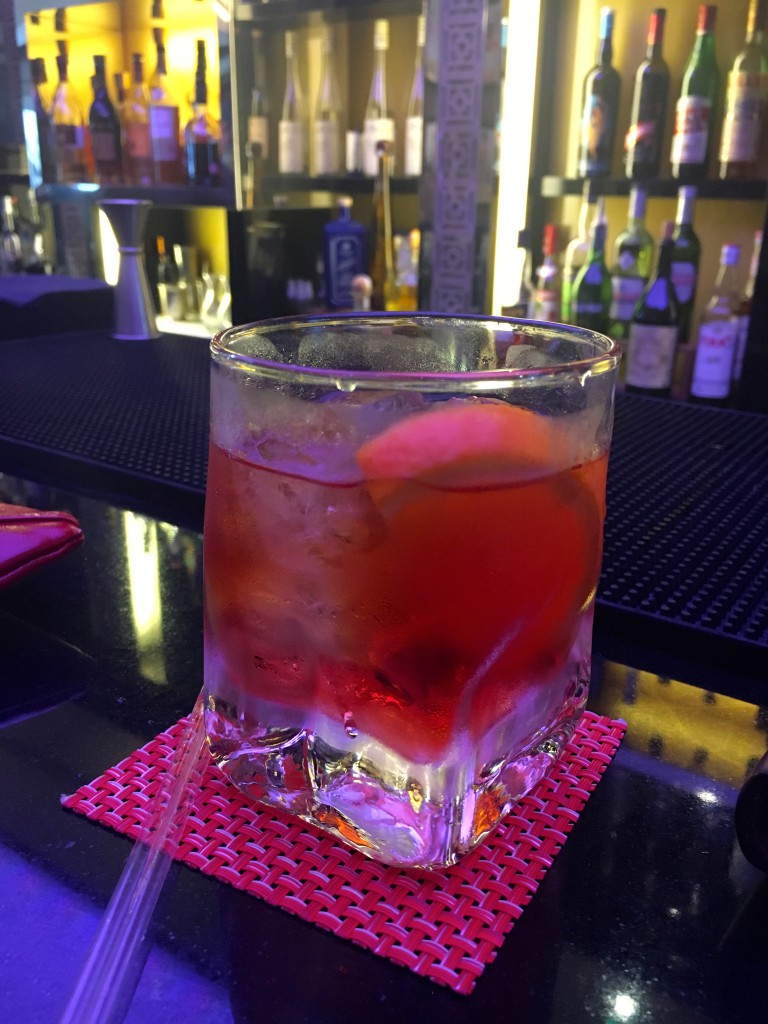 It is the smaller of the two restos in the famed St. James Hotel, but it has a more relaxed vibe - which is what we were looking for in a first-night-in-London dinner.
The bar is so well-stocked, I was mesmerized at so many unfamiliar bottles on their shelf AND some less-known ones that I was excited to see. So confused about what to order, I stuck with my usual aperitif - a Negroni. 🙂
Since there are only a handful of tables to dine at in this bar, the bartenders are also our servers. They were fun, knowledgeable and helpful. (If I didn't listen to the suggestion and order only the half-size of the lobster gnocchi, I would have hurt myself.)
The appetizers/small plates we ordered to share were unique, plated beautifully and delicious! I would see myself stopping in there again for a late-night cocktail and an assorted platter to nibble on.

The Gnocchi with Lobster was probably the best I have ever tasted! The sauce was similar to a bisque, with strong lobster flavour and chunks of lobster throughout. Luckily, the half order was the perfect portion size...I would NOT have stopped to finish a whole order!
FAV item?  Gnocchi with Lobster...obviously. 🙂
---
Butlers Restaurant

35 Charles Street, Mayfair, London, W1J 5EB
Telephone: +44(0)20 7491 2622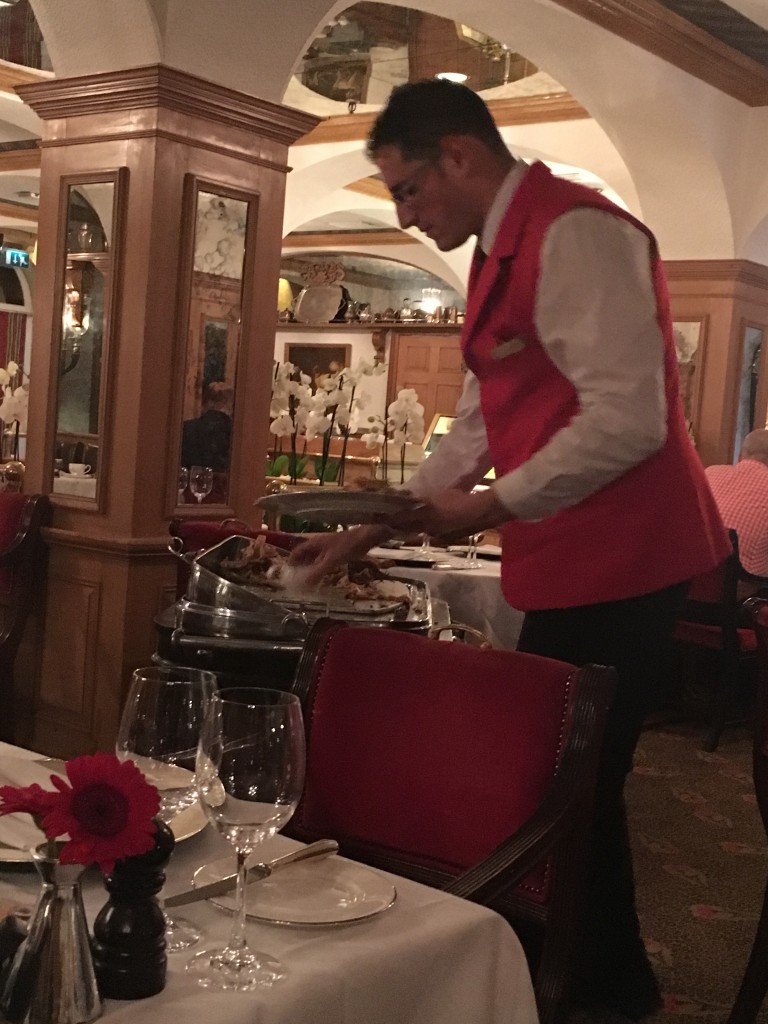 Butlers is located in the Chesterfield Mayfair Hotel, where we spent a couple of hours learning and chatting about G&Ts at The Terrace Bar. (See Fancy Drinkin' for all the details!)

Old-school formality and keeping with traditional British fare is what this restaurant is all about - and does well.

It wasn't busy that evening, but the dining room is quite large, so it may be deceptive.
Little details added for fine dining - salt selections on the table, silver wine bottle holders on the table, single flowers in silver bud vases.
The British Carvery option for dinner was fun and delicious. Different roasted meats arrive on a carver cart where it is sliced and plated table side with classic accompaniments. No excuse for waiting until a Sunday for a true Sunday lunch!
No British meal would be complete, in my book, without a Sticky Toffee Pudding. I am not a sweet eater, normally, but couldn't resist!
FAV item?  Sticky Toffee Pudding.
---
Pétrus
1 Kinnerton Street, London, SW1X 8EA
Telephone: +44(0)20 7592 1609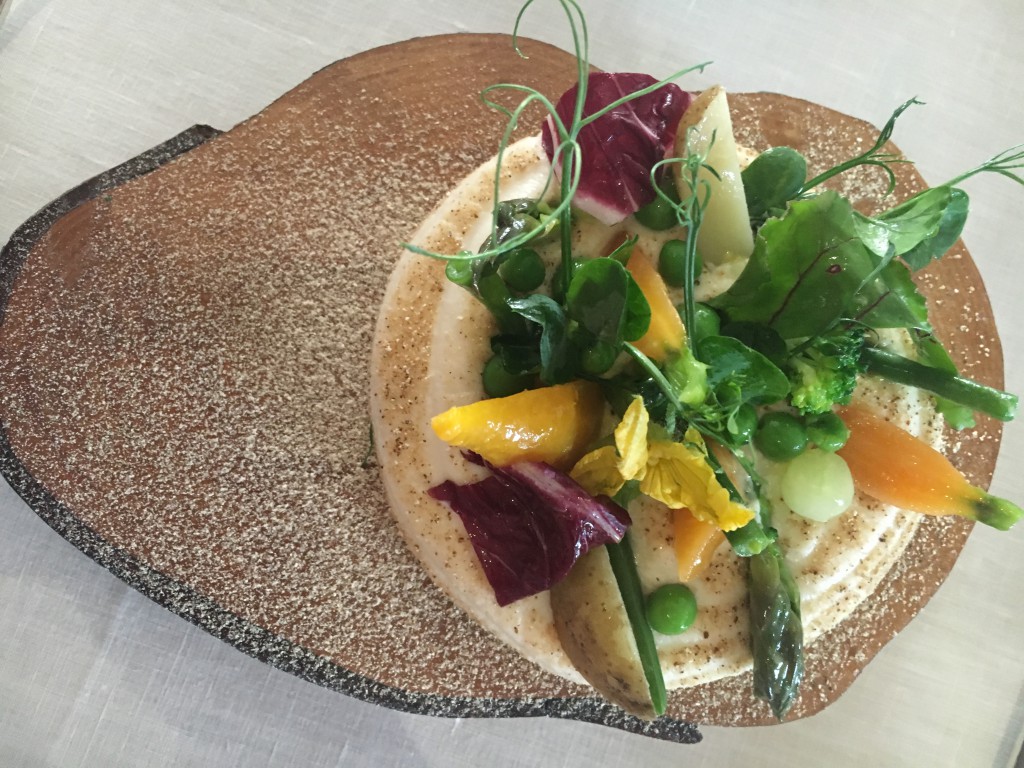 I had a feeling that this was going to be a good meal. Michelin-star? Check. One of Gordon Ramsay's Restaurants? Check. ...and for a lunch tasting menu, I admit - I don't think I have EVER had a better lunch!
The four-course lunch option for £37.50 was a steal!
The staff were beyond charming, very professional and obviously love with they do!
I was offered a tour of the kitchen and an interview with Head Chef Larry Jayasekara. It will become part of a larger video about Michelin-starred dining, but you can see an excerpt here.
Wine list was quite extensive (and expensive - but rightly so). I think I spotted a Pétrus for £25,000...I only wish!

Highlights of my meal? Where to start... the "Garden Salad" was divine! I just felt awful that I couldn't finish all of that whipped Brie de Meaux under the vegetables. With more courses to go, I had to make the hard choice. 🙁

I can never resist suckling pig - anywhere, anytime. I was tender and lovely and pared with charred pineapple...which will be my new go-to accompaniment for pork at home.
I could have had 2 portions of the lemon tart. Full or not. Period.
FAV item?  OMG The Lemon Tart!
---
Dinner by Heston Blumenthal
66 Knightsbridge,
London SW1X 7LA
T - +44(0)20 7201 3833
E - molon-dinnerhb@mohg.com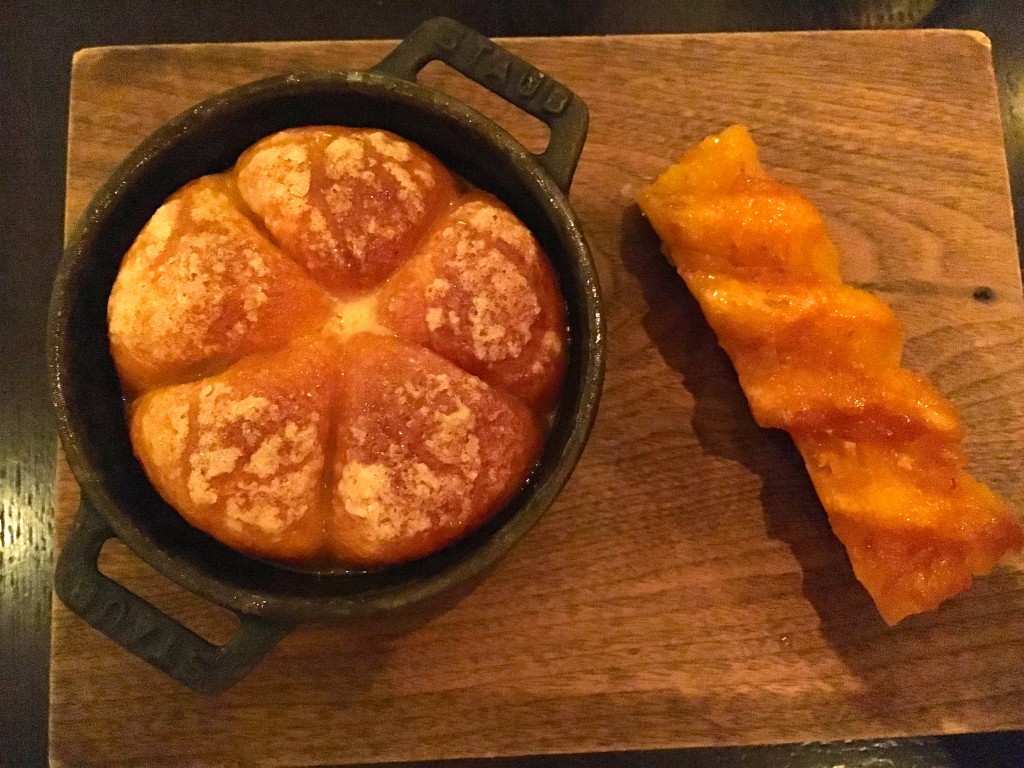 I have always heard about Heston Blumenthal's famed 3 Michelin starred restaurant, The Fat Duck, but since I would only be in London a short time and with an already packed schedule, I decided that a visit to his 2 Michelin starred Dinner would be a wiser option.

Located in the Mandarin Oriental Hyde Park Hotel, it is SO busy with hotel guests, tourists and the occasional celebrity. (I think I spotted Michael Kors and one girl seemed to be fawned over quite a bit.)

With all of the diners, the staff ratio is almost about the same...to the point that they almost seemed to bump into each other as they raced from kitchen to tables.
The noise level is understandable with the size of the dining crowd and all of that staff, but with hard floors, bare tables and an open kitchen, even our table for two had us leaning in to hear each other.
I liked my meal, but I admit it wasn't what I expected. The website details and how it was explained by the staff - I was expected something more modern. (The Fat Duck's ultra-creative menu and plating is what Heston Blumenthal is known for!)
The menu is an homage to the history of British gastronomy, citing original recipes and the years they were created on the menu for the guests' reference. What arrived was supposed to be a modern take on those dishes, but I suppose I was expecting a little more magic - either in plating, serving or creativity. (i.e. The Roast Iberico Pork Chop (c.1820) was exactly that - a pork chop.)
The Tipsy Cake that was touted by the staff as their famous, signature dessert was  good, but again - not what I was expecting. It was more like a brioche roll with a sweet glaze rather than a cake. The spit-roasted pineapple garnish was tasty, too, but I would have preferred smaller, bite-size chunks...but then you wouldn't have noticed the decorative cuts.
Don't get me wrong - the meal was delicious, just unexpected. Compared to other 2 Michelin-starred restaurants that I have visited in the past, it didn't compare. Sorry, Heston. 🙁
FAV item?  Earl Grey Tea Cured Salmon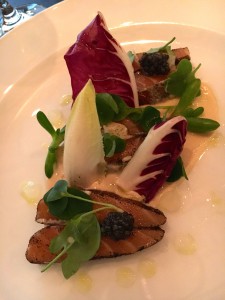 ---
Looking for a speaker for your next event or conference?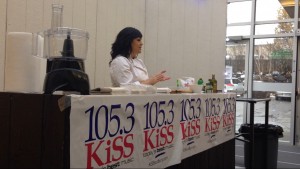 Cooking demonstrations, wine pairing events and lectures, travel talks and MORE...
She speaks with passion, insight and FLAVOUR!
To book an event or learn more, email us by clicking here