Fall 2015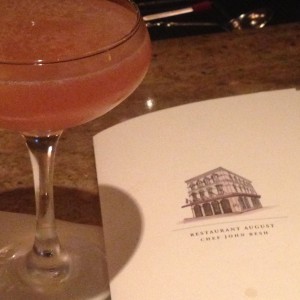 Chef John Besh's flagship in New Orleans and is a great example why you don't try fix what's not broken. Classic NOLA cuisine with a little twist here and there - just enough to make it special. A lovely date-night spot for sure!
FAV item? Handmade gnocchi with blue crab and black truffle
---
My friends and I stopped in here on a whim for a late lunch to tide us over until dinner. A couple had expressed a desire for jambalaya and try some authentic gumbo. The smiling hostess at Café Mesparo was lovely, bubbly and happy to find us a great table. The kids were offered crayons and sheets to colour on to keep them busy and we were all brought water as soon as we sat. From there...not that great, I'm afraid. The "combo" platter of jambalaya, gumbo and red beans and rice were all very small portions - in comparison to the massive platters of fried fish & fries seen elsewhere around the café. Another person in our group also ordered the full portion of jambalaya and noticed the same thing - it was 95% rice only! It was tasty, I heard, but obviously the last of the lunch batch? The gumbo also was mostly sauce with rice floating on top. When we mentioned it to our server, she was apologetic and offered to talk to her manager. She returned and told us that she "was taking care of the jambalaya and gumbo" from the bill. Wasn't sure if that meant the manager approved it? Or she took care of it on her own? We saw a manager visiting nearby tables, but he didn't stop at ours. Not to go into the service detail, but although our server was pleasant and quick, it was obviously her last table of the day and she even left for the day with our table uncleared. I am hoping for the Cafés sake that it was just a poor example of a Sunday afternoon service.
No pics taken...nothing stood out enough.
FAV item? The calamari was OK...a little more breaded than I like, but it wasn't overcooked which is half the battle.
---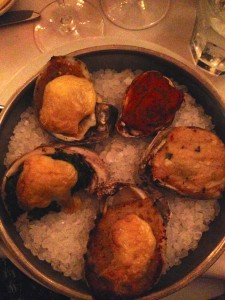 Old school elegance is definitely a style trend here in the Bourbon Street/French Quarter tourist area. Arnaud's has been wining and dining locals and tourists alike for over 100 years. Service is polished (and dressed in tuxedos) with white linens and table-side spectacles to wow your guests. It is definitely a "special occasion" spot. The portions were reasonable and tasted great, but were a little overpriced for the simple presentations. Their "star" dishes seem to be the before's and after's - appetizers like their Shrimp Arnaud (my guests' favourite), bisque and oyster starters are enough of a draw to create a whole meal. The table-side bananas foster, pecan pie and creme brûlée were beautiful and quick to be be devoured by all. Wine markups are HUGE, though, so if you are a fine wine drinker, be prepared!
FAV item? Oysters Arnaud - an assortment of 1 each of their best basked oyster recipes. I could have had another dozen!
---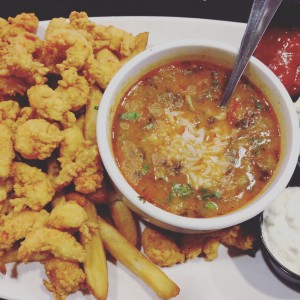 This is where I fell in love with étouffée! I went for crawfish and they answered my call with a Crawfish Duo platter.
The entire establishment is large and bright and there are several styles of seating options - cocktail tables at the front, seating at the bar and main room dining at the back. Service was quick and knowledgeable and a little shout out to Jeff, our bartender and server extraordinaire, who answered our questions and kept our lunch service fun.
FAV item? The Crawfish Étouffée (Recipe can be found here.)
---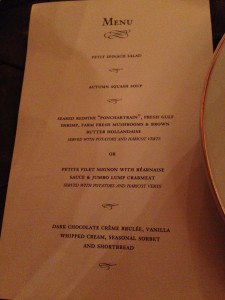 A beautiful and historic event space, Latrobe's has become the destination for weddings and other lavish events in the French Quarter. Servers are well trained, efficient and friendly and although the food was very slow leaving the kitchen, it was ultimately worth the wait.
FAV item? Autumn Squash Soup
---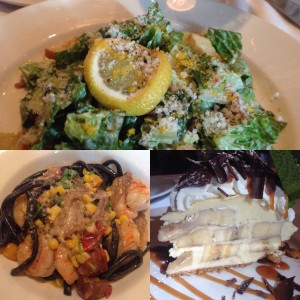 By the time I am writing this review, I only have 2 meals left here in NOLA and I am having a hard time anticipating either of them to be better than my perfect little lunch yesterday at Emeril's. Service was just about perfect - attentive, relaxed and knowledgeable - and no hovering! (Thanks to Herman and Aaron.)
My entire meal was worth noting...Chopped Romaine Salad (caesar-like, but lighter and fresher and more refined), Gulf Shrimp Pasta with Fresh Bucatini Nero, Oyster Mushrooms, Pancetta, Charred Corn, Ricotta Salata, Basil.
AND...I splurged on dessert! (which is a rarity for me EVER).
Banana Cream Pie like you've never tasted! (Recipe can be found here.)
FAV item? Gulf Shrimp Pasta. STILL raving it about it!!!
---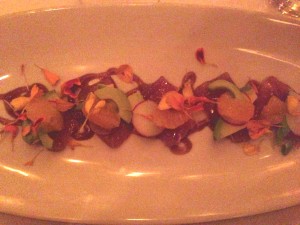 About a 15 minute taxi ride from the French Quarter, this little gem is a breath of fresh air from the usual that I experienced in New Orleans. Menu items were comfort foods with a NOLA splash or two and the plating and service were refined and modern.
Prices for the wines were very reasonable and included many selections that were easy pairings with their streamlined menu.
It is a short walk from the famed Magazine Street area, so it would make a great dinner destination after an afternoon of shopping.
FAV item? Yellowfin Tuna "Crudo"
---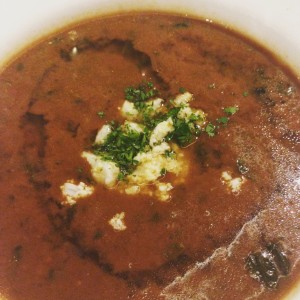 I was planning to go to The Old CoffeePot for breakfast this day and it was closed for no listed reason. I walked around the corner to find Brennan's open and willing to serve!
I was hoping to be able to squeeze in lunch or dinner at this place anyhow, so my last big breakfast in NOLA was a fitting final day's treat.
Old school charm, table side flambée (yes, even in the morning you can enjoy their famous Bananas Foster or crèpes) and classic local cuisine encouraged me to check off a couple of things off my must-try list this morning - Turtle Soup and Eggs Sardou.
FAV item?  Turtle Soup was luscious!
---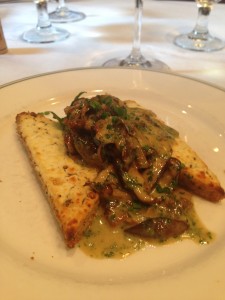 It is a GOOD thing when the only negative thing I could think of to rate my lunch at Bayona was that the menu descriptions do not accurately describe what is served. The menu uses simple descriptives but what arrives is so much more. The Goat Cheese Crouton (a staple on both their lunch and dinner menu) is lighter on the goat cheese than I expected. I was picturing a golden-fried solid round of goat cheese and simple toast broiled with a light layer of goat cheese arrived as a base for the madeira-bathed mushroom sauce. It was a perfect balance so I am glad that I took the chance.
Same thing happened with the pork scaloppine special. It was a perfectly cooked and golden brown and the gnocchi were some of the most ethereal that I have ever tasted.
Now, if only I had the room to sample a dessert. 🙁
FAV item?  The gnocchi were my favourite bites that day but I don't think they were a regular item on the menu. My go-to choice would then be the Goat Cheese Crouton.
---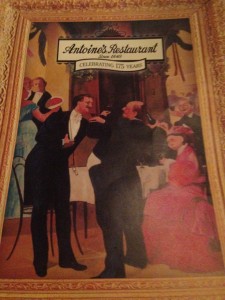 What history in this place! Our server, James Black (I won't forget this man!) , not only was a helpful aid in our tour of the menu, but he gave us a personal tour of the 40,000+ sq.ft. building - with all of its nooks, crannies and storied rooms.
A special occasion hot spot, I would also recommend Antoine's either as your first dinner in New Orleans (to kick things off) or your decadent "so long" to Crescent City.
As for the meal? We went for the classics...assortment of baked oysters (including the original Rockefeller which was created at Antoine's) and the local pompano fish served with "Pontchartain sauce" which means topped with sautéed crab or seafood. We couldn't have asked for a more New Orleans-style farewell!
FAV item?  As much as I liked the original Oysters Rockefeller, I am now a big fan of the Oysters Bienville. I tried it a few times during the week, but LOVED Antoine's version.
---
Looking for a speaker for your next event or conference?
Cooking demonstrations, wine pairing events and lectures, travel talks and MORE...
She speaks with passion, insight and FLAVOUR!
To book an event or learn more, email us by clicking here