From my kitchen to yours!
Consider this section my little notebook of dishes that I have worked on, experiments that worked well, recipes from classes and other little treats that I want to share from my travels.
Enjoy!
Beverages & Cocktails
Breakfast
Zucchini-Chocolate-Nut Muffins
Appetizers
Agrodolce Onion & Mozzarella Bruschetta
BBA (Bean, Bacon & Almond) Salad
BBT (Bacon, Basil & Tomato) Verrines
Butternut Squash, Apple & Ginger Soup
Caramel, Pear & Blue Cheese Flatbread
Classic Cheese Platter – How-To
Classic Vegetable Platter – How-To
Mini Mushroom & Escargot Bites
Pan Con Ajo e Tomato (Bread with Garlic & Tomato)
Pea, Fennel & Goat Cheese Salad
Roasted Potatoes with Romesco Sauce
Steamed Pork & Ginger Dumplings
Wilted Spinach & Garlic Crostini
Mains
Braised Cod with Fennel & Tomato
Braised Pork Belly with Roasted Plums
Cauliflower and Almond Risotto
Maque Choux with Spiced Scallops
Desserts
Classic Fruit Platter – How-To
Emeril's Famous Banana Cream Pie
---
Want to night out with great cuisine and a chance to learn some great recipes?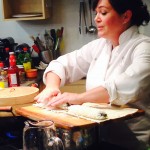 Why not join Stephanie for a cooking class ?
So many class themes to choose from – and NO ONE ever leaves hungry!
CLICK HERE to see this season's schedule and for on-line registration.
To book a private class of 8 or more, email us by clicking here