Spring/Summer 2016
RedStone

4245 King Street
Beamsville ON, L0R 1B1
info@redstonewines.ca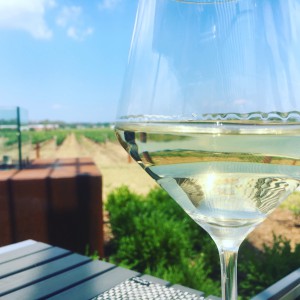 It was a scorcher the day of my visit (38*C) and I was happy to see that there massive patio had plenty of pergolas and umbrellas built into it overall design.
I was, however, surprised that it was so quiet for a Friday afternoon. The menu looked great, the patio was stunning with a view of the vineyards and they had live music playing at the far end of the patio.
Psst...here is a quick video clip of the band...   Live music
Maybe because it wasn't right in Niagara-On-The-Lake?
My plan was to carb-load a little so I can taste more wines without getting too tipsy for the rest of the afternoon.
My plan was NOT to overload on fried foods, however, but they sounded too enticing.
Fried chicken skins and a side order of the macaroni & cheese to share (not just for myself) as a starter course - and the halibut and chips for my entrée.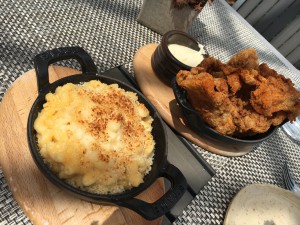 I chose the Redstone Sauvignon/Semillon blend as a pairing for the lunch order and although it was a lovely match, the ceramic bucket/stand that it was stored in didn't keep the wine cold enough. We could barely finish it by the end of our lunch...which was too bad.
I was also surprised that no one brought ice with our water - or to add more to the wine bucket.
Too much fried food, not-so-cold wine and the blazing sun peeking through the pergola was a little too much for my body to take...needed a nap.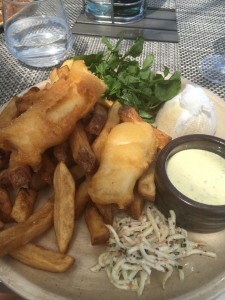 Next time, I am just ordering the macaroni and cheese - large size - and a chilled glass of the wine.
FAV item? That Macaroni & Cheese!

Update: Spring 2017
I brought some friends back here for the patio and food - but with the rain, we settled on the food.
Oysters to start and pizzas for everyone, it was the perfect way to break up our day of wine tasting.
The restaurant was packed for the whole time we were there so it obviously has become a hot spot! Glad we booked ahead!
---
Kitchen 76
240 John Street East
Niagara-on-the-Lake, Ontario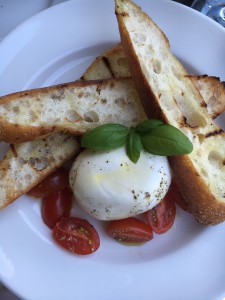 Another lovely patio overlooking the vineyard, but luckily this one doesn't get the majority of the direct sunshine until later in the afternoon. It makes a perfect go-to lunch spot, then, for those visiting the historic, downtown area of Niagara-On-The-Lake.
The decor is simple and modern and the staff are quiet and attentive.
The menu wasn't too large and had plenty of delicious-sounding options, but I zeroed in on the burrata for my starter. I did NOT expect a whole ball to myself, but it was cool, simple and hit the spot! (I would have loved more of that olive oil to drizzle on my grilled bread, however...it was luscious!)
We had decided to hold off on ordering an entrée until our starters were finished...and that was a good call! As we looked around the patio, the pizzas and pastas all looked amazing - but large!
We decided to split the Strozzapreti and we barely finished THAT plate!
On a cooler day, I could see locals or not-so-rushed visitors spending long, leisurely afternoons here.
...and me - on my next visit. 🙂
FAV item? The buratta appetizer was large enough to make an excuse to order it every day to MAYBE share. 🙂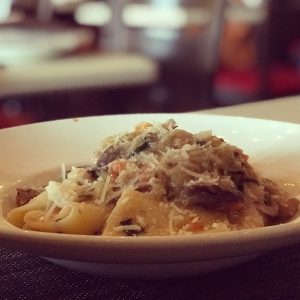 Update: Winter 2018
I finally had a chance to bring my husband here for lunch and it was superb!
We opted for the comfort-food-like, seasonal options of Fagioli Toscani as a starter and the Pacherri with White Rabbit Ragu and Traditional Bolognese.
All were fantastic, but that Pacherri stopped me in my tracks! As comforting as a bowl of chicken soup!
---
Marilyn's Bistro & Lounge
6732 Fallsview Boulevard
Niagara Falls, ON Canada
L2G 3W6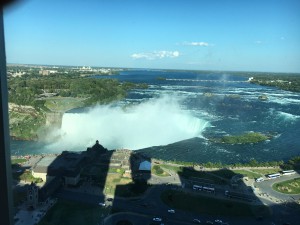 They come for the view, obviously! Many tables line the windows and the second row are also spaced to give everyone a chance to see the falls from their seat.
Set up on the 26th floor of The Tower Hotel on Fallsview, Marilyn's Bistro & Lounge has become the well-known "date night" destination for dining.
The menu is classic - with a few items "twisted" into something a little more modern. Light jazz is smoothing the soundtrack of your experience and the staff are dressed in shirts and ties. Old school fine dining!
I ordered the Oysters Rockefeller with some trepidation. Many chefs prepare this a little too heavy for my liking, but this platter was so light and tasty that I could have eaten more.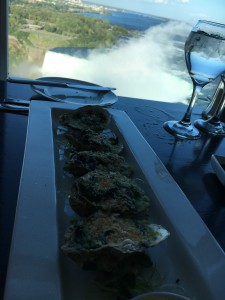 Both my guest and I - like many others who sat around us - ordered the Filet Oscar with fresh crab, filet of beef and some hollandaise. The fillet was seasoned perfectly, the vegetables were still slightly crisp (how I love them) and the crab was soft and delicate. The doneness of the beef was another story. We had both ordered it rare and it arrived somewhere between medium and medium well. It was still tender enough to eat (and we were too tired from our long day of tasting) so we passed on the info to the kitchen via our server but didn't ask for a re-fire. Other tables around us weren't that kind. Crossed arms and frowns were seen at several tables around us and our opinion was that it wasn't THAT bad as to be so angry. It was a very hefty filet (which is tricky to cook) and for $38 for the full entrée, it was a good value.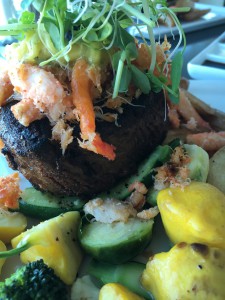 The wine selections were OK, but mostly too heavy for my tastes. A lot of wines from California, Australia and heavier Italian varietals - with a bunch of VQA wines to round out the menu. The cocktail list wasn't bad either, but when I asked about ordering a Negroni before dinner, our server informed me that she was also our bartender and wasn't sure how to make one. I didn't chance it...she looked too nervous...
Overall...nice night, nice ambiance and good food - just what a date night calls for...
FAV item? The Oysters Rockerfeller were so light and tasty, that I could have had a double order and a side salad for a complete, delicious dinner!
---
Spring 2017
HobNob Restaurant
209 Queen Street
Niagara-on-the-Lake, ON Canada
Website
It wasn't in the plan for the weekend, but sometimes fate takes you where you NEED to go. This little award-winning gem of bistro is inside the historic Charles Inn in downtown Niagara-on-the-Lake.
Even at lunch, the tables are clothed in white linen with perfectly polished everything.
The lunch menu is not too big and not too small - a little something for everyone - from fish to salads to shepherds pie.
Service was quick and pleasant.
Wine list has a broad selection of by-the-glass options.
FAV item?  The handcut fries. The burger was great too, but I had a hard time getting my tablemates from picking at those fries!
---
Trius Winery & Restaurant
1249 Niagara Stone Road
Niagara-on-the-Lake, ON Canada
Website
A top notch dining experience, like at Trius, with spectacular wines (of course) is in order EVERY time you visit the Niagara region. It is worth the splurge!
Trius' dinner menu is a mix-and-match plan of tasting menus. Take either 5-course Menu #1 or 2, or a combination of both to create your own 5-course perfect meal. There is also a 3-course shared meal option featuring a 16oz ribeye.
We thought that we had a knowledgable server, but when I looked around the room, I saw only a highly-knowledged, personable and professional team.
Each of the courses was lovely and I was happy that I went along with the chef's plan of Menu #2.
The menus are priced reasonably for the amount of food you get (be prepared to EAT). $85 per person for the 5-course tasting menu and $130 for 

two

people for the 3-course sharing menu.
My main critique was the overall timing. For 5 courses, it should not have taken almost 4 hours to dine. There were unusually long pauses in between courses and no one - not even our server- mentioned the delay, apologized or offered updates to us. It was almost as if it was a common problem. So - make sure not to plan anything afterwards!
FAV item? All 5 courses were stellar, but I could have been perfectly content to finish after that mushroom soup!
---
Ravine Vineyard Estate Winery
1366 York Rd
St. Davids, ON L0S 1P0
Website
I was told on my last visit to this area to make some time to visit Ravine and I am finally glad that I made the time.
It isn't a large dining room, but during the patio season, it is obvious that they have almost double the space for everyone to come and enjoy their backyard.
I spotted a large fire pit for after dinner ambiance.
Their patio bar is large and inviting and overlooks their vineyard.
The menu was only 3 pages (snacks, starters, entrees), but had enough of a variety to fill everyone's bellies.
Service was very prompt and pleasant to deal with.
I splurged on 3 courses and felt bad that I could barely finish every plate.
FAV item?  The risotto! BUT it was so filling, I would re-order it next time, along with the  appetizer (or two) and dessert and split all items with my hubby. I barely ate half of it! (And I can eat!)
---
In Piazza Pasta & Wine Bar
3530 Schmon Parkway
Thorold, ON L2V 4Y6
Website
I don't usually have time to dine at a hotel's restaurant - or take the time to make a few notes, but I wanted to comment on this one, since I made a point of mentioning it in the hotel review on another page.
The dining room is very spread out so quiet conversation is easy, however, if you are looking for a fun Friday night, it's a little TOO quiet. (We chose to sit at the bar.)
It didn't seem that they were used to having anyone dine there in the evenings except for late-night hotel guests. There was minimal staff around for a Friday night and they seemed more interested in chatting with each other than checking on any of the diners.
The menu is pretty basic for "bar food" with a slight nod towards Italian.Although the calamari was cooked alright, the mushroom flatbread was so unappealing that we couldn't even convince a stranger at the bar to share it with us. (Mushrooms and cream cheese smeared on barely-cooked flatbread and topped with a diced tomato "bruschetta" topping. Flavourless, and barely warm, unfortunately.
When we peaked down into the dining room the next morning, the place was bustling and full of morning diners...which I believe now, is their forte.
FAV item? The Calamari. It was ok - not overcooked, not over breaded.
---
Rockway Vineyards
3290 Ninth St.
St. Catharines, ON
L2R 6P7
Website
There were very few options for a good breakfast near the hotel in St. Catherine's, so when I found this place online, I also had no idea it was a golf course, as well.
At first, we were a little nervous that, at 9:30am, the restaurant was empty. There were golfers out on the course, but it didn't seem like they usually expect anyone eating after the morning tee off.
It was a pleasant surprise!
Many wine-themed decor elements around the dining room was fun to read and keep our interest while we waited for our meal.
Our server was prompt, polite and helpful with the menu. We were told that we could order anything from the menu - not just breakfast items.
The food arrived hot, fresh and in just the right portion sizes.
We could see why local golfers would spend a lot of time here...view of the course, great food - and their tasting room was right next door!
FAV item?  My classic breakfast. BUT that was only because I didn't get to try the potato salad that my guest enjoyed beside me...looked divine!
---
Backhouse
242 Mary Street
Niagara-On-The-Lake, Ontario
L0S 1J0
Website
Sometimes, you have to listen to the universe when it speaks to you.
Within a few hours, I saw two mentions of this restaurant on my Twitter feed and then my brother messaged me to ask if I had dined there yet...it was obviously meant to be!
I loved the wood, metal and stone details in the decor. It felt like an upscale version of an old barn or shed.
I am a sucker for bar seats and to sit at the counter facing the stoves to watch the action and get the aromas up close was a real treat!
Every single bite was cooked perfectly...including the vegetables. (I am a stickler for properly-cooked veggies.)
Portion sizes were reasonable for lunch and the prices were right on point.
We didn't have room for dessert, but managed to get a sample of their basil ice cream...it was beautiful!
FAV item?  Bird on a wire. It was perfectly cooked, which is not always easy with whole chicken. I am glad that we decided to split both entrees so we could try a little of everything for lunch. Can't wait to go back for dinner on our next visit to the area!
Update: Winter 2018
My husband and I splurged on the Chef's Tasting Menu and every single course was divine.
I was most thrilled with the pace of the service...just enough time to take a short breather between each of the 11 courses.
The "Linc farm pork ragu a la bolognese" was so good, that I am glad that I was only served a small bowl. It is the perfect late-night bowl of pasta!
Here are a few more pics from the tasting menu...
---
Peller Estates Winery Restaurant
290 John Street East
Niagara-on-the-Lake, ON
Canada L0S 1J0
Telephone: 905-468-4678
Toll-Free: 1-888-673-5537
Website
I admit I was hesitant on returning here for lunch since I had such an amazing dining experience for a blind tasting menu on my last visit several years ago.
Chef Jason and his team reliably produce excellent dishes that reflect the season, the area along with a little luxury.
 Service is welcoming and the dining room is bright and overlooks the property. Even in the winter months, the views were so pretty, I spent time between courses taking photos.
The portion sizes for lunch were PERFECT! Not so small that you feel like you are missing something, but large enough to feel like you're getting a little spoiled. I was pleasantly full when I left, but there was not a drop left in either of my dishes...or my wine glass. 😉
FAV item?  Signature Lobster Linguine is the most decadent dish that you can treat yourself with in the Niagara area. Icewine poached lobster, handmade black truffle linguini, smoked bacon and chardonnay cream sauce...need I say more?!?
---
Noble Restaurant
6 Picton St.
Niagara-on-the-Lake, ON
L0S 1J0
Website
A warm, classic restaurant within the most historic hotel in Niagara-On-The-Lake.
Noble is polished service, white tablecloths, ornate fixtures and quiet, classic jazz. The food is simple, comforting and featuring the best preparations of each ingredient.
The wine selections were superb but after the day full of wine tasting and a cocktail and cheese plate before dinner, I only had room for a glass of my favourite Verdicchio to sip alongside my two dishes.
Norm had more of an appetite, so he was happy to eat every bite of his Lake Erie Walleye.
FAV item?  The Chilled Poached Nova Scotia Lobster  was so simply beautiful to look at, I posted a photo online right away. The lobster was cooked perfectly and it sat on top of some Niagara Peach Preserve for a sweet finish. I am now looking forward to pairing my chilled summer lobster salad with some fresh fruit!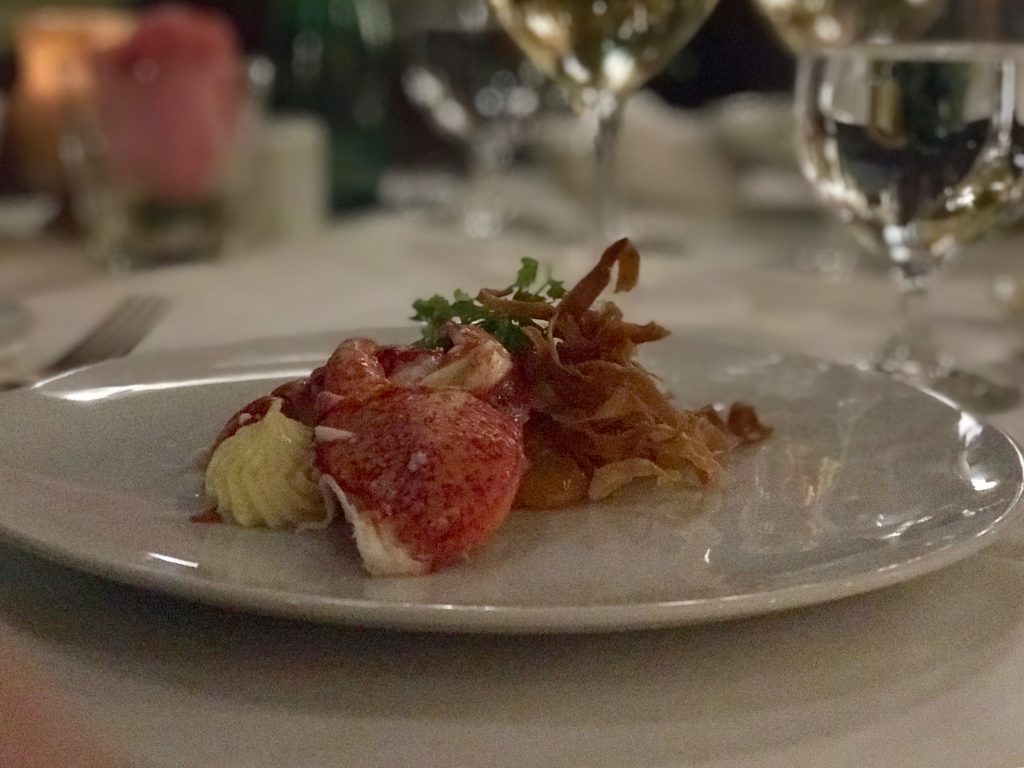 ---
Treadwell
114 Queen St.
Niagara-on-the-Lake, ON
L0S 1J0
Website
It was a good idea to come here on a Holiday Monday. It was quieter than usual and our seat at the counter, overlooking the kitchen area, was the perfect spot to watch the action, chat with the staff and see the other dishes heading out to tables...and we watched with envy and worried we ordered wrong.
I plan to visit again this summer, so I have already picked out Slow Cooked Lamb Shoulder for my next order!
FAV item?  The Carrot Cake Pudding  worth skipping an extra course! I raved about it so much before I left that they were kind enough to pack up a few extra pieces for the ride home the next day. 🙂
---
Looking for a speaker for your next event or conference?
Cooking demonstrations, wine pairing events and lectures, travel talks and MORE...
She speaks with passion, insight and FLAVOUR!
To book an event or learn more, email us by clicking here