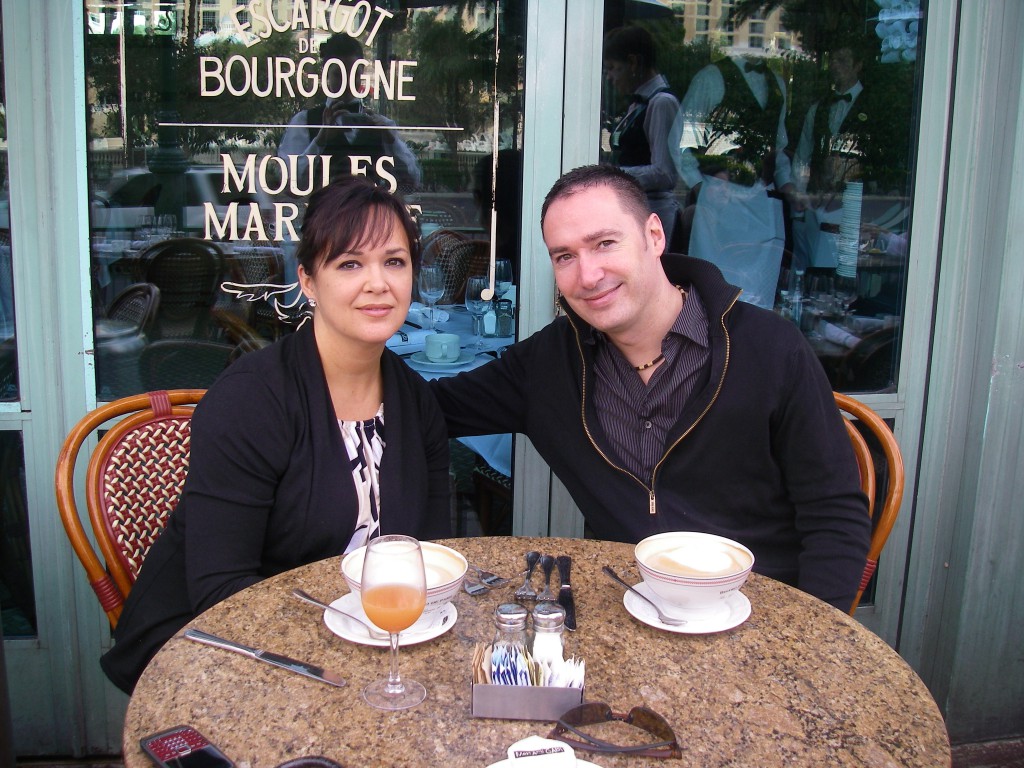 A long, stressful day in the kitchen is not a great start to a sexy date night!
Everyone has their own idea of a perfect evening with their special someone, but one thing we can all agree on - is that adding something different makes it that much more memorable.
Here are a handful of ideas to get your planning started...
Get outside!
Like to workout together? Try out a new outdoor sport or bundle up and find a new hiking trail. Spending time out in the cold will just make the after-party of a fire and cuddling that much warmer!
Try a throwback!
Do you have fond memories of your first date? Maybe you want to relive your wedding proposal - or even just a fabulous meal that you both still can't stop talking about. Take a few steps to re-creating a memorable moment for the two of you may rekindle those heart-strings.
Hands off!
Setting up a new rule during your date night dinner can add a sexy twist. How about trying to eat your dinner WITHOUT feeding yourself? You only feed each other.
At home, this can be amped up by removing all utensils from the table. At a restaurant? It depends on what you have ordered and how comfortable you are with others watching you (in envy) - but it's completely up to you!
Surprise!
Adding an unexpected element - even for those who say they don't like surprises - can keep your date guessing. Planned a classy dinner out? Arrange for an early pickup with a car service to go for a cocktail beforehand. Or if you have the flexibility, book a hotel room nearby to spend the night afterwards.
Something new!
Do you love dining out? Why not try out a local cooking class? Wine lovers? Find a local tasting or class. Want to upgrade your footwork on the dance floor? A ballroom class with some basic tango lessons can turn up the heat!
Dinner & A Movie - Upgraded!
A simple night of a dinner and movie at home doesn't have to be boring either. The key is to prep in advance, add in some luxurious ingredients (think aphrodisiac) and a little creativity. Try matching your menu to the theme of the movie. Why not turn your bedroom into a hotel room? Move in a TV (if you don't already have one in there), grab a tray for your dinner, a champagne bucket on your nightstand or small table and shut the door. Just like room service - but more fun!
Need a couple of recipes for that dinner or evening in?
Here are a couple of make-ahead options to start with so you don't spend all of your night in the kitchen.
Chestnut Soup With Prosciutto
8 Servings
This soup can be made in advance and then just warmed and garnished before serving. How easy is that? This recipe features freshly-roasted chestnuts, but you can sometimes find pre-roasted, shelf stable chestnuts in the international section of your favourite grocery store.
3 lb fresh chestnuts
2 tbsp unsalted butter
2 tsp extra virgin olive oil
4 medium leeks,white & pale green parts only, thinly sliced
1 1/2 tbsp fresh thyme, chopped, plus more for garnish
10 cups chicken broth
salt and pepper
2 slices prosciutto, thinly sliced, cut into thin strips
1. Position a rack in the center of the oven and heat the oven to 400F.
2. In a medium bowl, cover the chestnuts with warm water and soak for 25 minutes. Drain and dry with paper towels.
3. Score an x into the flat side of each chestnut, cutting all the way through the shell. Put them flat sides up on a rimmed baking sheet and roast until the x's curl back into a crown shape and they are tender when squeezed, about 30 minutes. Peel while still warm, remove both the shell and the inner skin.. If a shell resists peeling, spoon out the nutmeat instead. Roughly chop the chestnuts and set aside in a medium bowl.
4. In a 6-qt pot, melt the butter with 2 tbsp of oil over medium-low heat. Add the leeks and cook, stirring occasionally, until softened, 7 to 8 minutes. Add the chestnuts and 1 tbsp of the thyme; cook until fragrant, about 1 minute. Add the broth and 1/2 tsp salt; bring to a boil over medium-high heat.
5. Reduce the heat to low and simmer until the chestnuts are extremely tender, about 30 minutes, skimming off any foam that rises to the surface. Let cool briefly.
6. Working in batches, puree the soup, either in a regular blender or with a hand blender. Strain the soup through a fine sieve into a clean 4-qt pot. Set the soup back over medium-low heat and gently reheat. Season to taste with salt and pepper.
7. Meanwhile, in an 8-inch nonstick skillet, heat the remaining 1 tsp oil over medium heat. Add the prosciutto and cook, stirring frequently, until crisp, 2 to 3 minutes. Add the remaining 1/2 tbsp thyme and cook 30 seconds more. Drain on a plate lined with paper towels.
8. Ladle the soup into bowl and garnish with some of the prosciutto and thyme.
Chocolate Mascarpone Cheese Ball With Dried Cherries
8 Servings
This is a casual, feed-each-other kind of decadence! Like a Black Forest Cake - without the cake.

Feature it in the centre of a beautiful serving platter with fresh berries (cherries would be ideal) and whipped cream.
2 oz white chocolate, chopped
1 cup mascarpone cheese, room temperature
1 tbsp kirsch
1/2 tsp vanilla
1 cup dried cherries, coarsely chopped
2 oz bittersweet chocolate
chocolate wafers
1. To melt white chocolate, bring 1 or 2 inches of water in a small saucepan to a boil.  Remove from heat; place metal bowl filled with white chocolate over top, but not touching water.  Let slowly melt for a few minutes; then stir until smooth.
2. Meanwhile, turn mascarpone into a small bowl. stir with rubber spatula until smooth.  Stir in kirsch and vanilla; then mix in melted white chocolate.  When smooth, fold in cherries thoroughly.
3. Shave bittersweet chocolate with a chef's knife or coarsely chop. Turn half out in a 6-inch circle on a long piece of plastic wrap laid on work surface.  Heap cheese mixture into a ball over top.  Sprinkle with remaining shaved chocolate.
4. Lift plastic wrap to help shape into a ball with your hands.  Press so most of the chocolate adheres; form into a slightly flattened circle. Wrap in plastic wrap; set on plate. Reshape as needed.  To firm, refrigerate for 2 hours or for up to 5 days.
5. A couple of hours ahead of serving, remove cheese ball from refrigerator to come to room temperature.  Place on serving plate; scatter with any loose bittersweet chocolate bits so some falls about ball on plate.  Serve with chocolate wafers for spreading.