Spring 2016
Alma del Temple

Carrer de l'Almirall, 14,
46003 València,
Valencia, Spain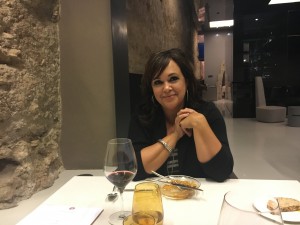 Where do I start?
When we arrived for our reservation, we didn't realize that it was located in a boutique hotel. We asked the receptionist where the restaurant was located in the building and was told it was closed for the night - except for hotel guests. I quickly told her that I had made a reservation online and when she checked on her computer...VOILÀ!
NOTE: This would be one of those instances that make-ahead reservations was needed - and thank goodness I planned ahead!
If you read through June 2016's issue about the Spanish Tasting Menu, then you already know that this menu and meal impressed me! (Click here to read it again for reference.)
It was a set menu only for the Sunday night and although there was only one other couple dining that evening, the restaurant layout is smartly designed with little coves and raised areas that it doesn't feel like an open or empty space.
The staff was pleasant, knowledgable and excited about showing off their local ingredients and wines.
All dishes arrived on custom-made stone or marble plates or bowls that mirrored the cave-like details in the room.
Plating was simple and beautiful.
Everything was well-seasoned and portions were just right! (I could have had 1 less course, though, to be comfortable...but it was SO good!)
Their wine list was quite extensive, but since we were only in Valencia for the day, I opted to have our waiter suggest his favourite local wine and we were introduced to the grape called Bobal. Lovely and dark!
We were told later that evening that the new Head Chef has just completed the overhaul of the tasting menu and it will now be close to 35 courses!
This restaurant has just made it to my Fav 5!
FAV item?  Anchovies in pickle.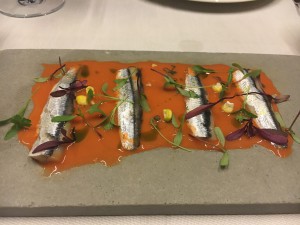 ---
Looking for a speaker for your next event or conference?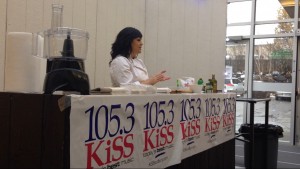 Cooking demonstrations, wine pairing events and lectures, travel talks and MORE...
She speaks with passion, insight and FLAVOUR!
To book an event or learn more, email us by clicking here