Victoria, British Colombia
I am sad that it has taken me so long to travel here. I have always heard great things, but we, as Canadians, know that it is much more expensive to travel within our own country sometimes than to venture outside of our borders.
When I travel, I find myself making comparisons. "This area reminds me of Newmarket." or "It is like being on Georgian Bay." It is most likely my own way of taking a little bit of "home" along for the trip. A little familiar comfort.
In my limited time here, I have had the pleasure of visiting Victoria and touring many of its vineyards. Even staff at the Vancouver airport were surprised to hear of my plans for winery tours here.
It is definitely new to world of wine. Some of the wineries are only in their first year of production, with new buildings for tastings, areas cleared in the property for weddings and other events, and offering samples at local festivals and wine-themed events.
You can visit the wineries here either by signing up for a tour hosted by a local tour company, rent a car (but drinking and driving is never a good idea) and taking a taxi may prove difficult and costly since the wineries are sometimes a good distance apart.
Before I left home, I contacted the Wine Islands Vintners Association to figure out the best way for me to visit the most wineries, with an easy itinerary, in the time I had available to travel. They recommended a couple of tour operators, but because I was looking for private travel (not in a large group), and based on last minute availability, I chose Darwin Laninga and his team of knowledgable drivers at Surfside Adventure Tours.
Darwin, himself, was my guide for the first day's of touring the area. He selected 3 wineries + 1 distillery that were all nearby my hotel, Brentwood Bay Resort & Spa, and that were open for tasting appointments on that particular day.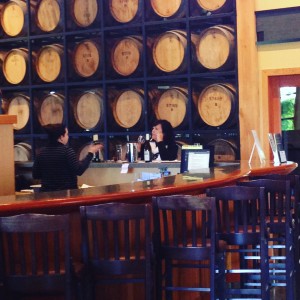 Here is the list of the wineries & distilleries I visited...
Church & State - which is becoming more renowned throughout Canada as well as internationally as a winery to watch.  Amanda was our hostess that morning and her knowledge and passion for the wines she poured was a lovely start to our day.
DeVine, which is another fairly new local and organic winery and distillery.
Across the street, we visited a local favourite, Victoria Spirits where we sampled Victoria Gin, Oaken Gin, their eau-de-vie as well their new line of flavoured bitters.
We finished our afternoon at Sea Cider Farm & Ciderhouse.
Day two was spent on other side of the peninsula. Phil, our driver, was most knowledgeable about the history of the island and was a great resource to get an overall synopsis of life in and around Victoria.
Day two's stops?
Unsworth for a morning tasting and an early lunch. The wines were lovely but the lunch was SPECTACULAR!
Blue Grouse had a great selection and a brand new tasting room to show off, but I felt that only those who looked like serious bulk buyers were of interest to the host that day.
Cherry Point  specialized in a European style of wine-making. The owner and host in the tasting room explained how they followed the labelling and winemaking production styles of comparable Spanish and French varietals.
Enrico for a VERY large tasting (well worth the money) in a chatty, lively and informal kitchen-style tasting room. Made room in my suitcase for one their stellar rosés.
For a more in-depth review of the hotel, click on the following link...
I could have spent another couple of full days in Victoria just visiting and tasting. There were many more places to visit on this little island.
...and from the recent BOOM in the list of new wineries?
I would suspect that there will many more to come.