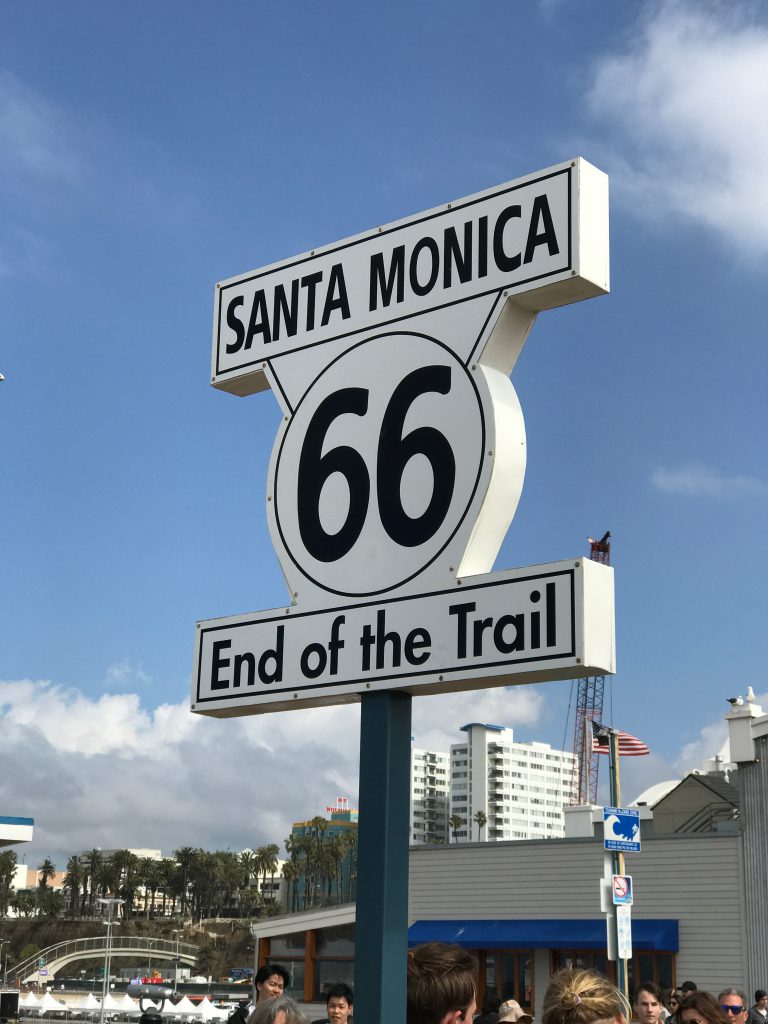 You look like you need some sunshine!
This is the second of my Travel Logs to provide you with a 3 or 4 day list of places to eat, where to stay and some fun stuff in between.
...but mostly, it is how to eat and drink your way through a weekend getaway. 😉
As always...if you have any questions or need other recommendations aside from what is listed here, you know you can always reach me at travelqueen@stephaniepiche.ca
Lodging
AirBnB
This was my first-ever AirBnb rental and I think it worked out perfectly for our needs.
There are so many AirBnB rentals in Santa Monica that are all within a few blocks of all things tourism, the beach and any trendy cafe that there is no way to make a bad choice.
We chose a 2-bedroom unit on 6th Street, but during our stay we saw many people wandering the area with carry-on sized roller bags and backpacks. There may even be more rental units filled with tourists than actual Santa Monica residents!
For a pricing comparison...we were looking at our usual king bed standard hotel rental on Ocean Ave. for the same price as a two bedroom rental a few blocks north.
Three Day Travel Log
Flight details - Westjet from Sudbury to/from Los Angeles (arrived at 12:30pm on a Wednesday, departed at 11pm on Saturday)
Wednesday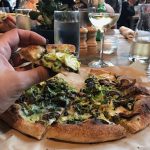 LUNCH   True Food Kitchen  It was raining when our taxi dropped us off at our AirBnb rental and we were too early for check-in so we wandered down to Santa Monica Place to look around, get out of the rain and grab a bite to hold us off until our dinner reservation.
Even with the rain outside, the place was lively, bright and bustling with servers, locals table-hopping to say hello and hand-scrolled phrases on the walls praising farmers and the earth.
It is a great combination of healthy eating and trendy atmosphere so you aren't forced to choose either one.  Check out my review by clicking here!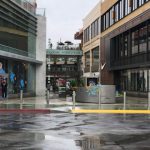 SHOPPING Santa Monica Place   Part indoor and part outdoor mall with every high-end designer tucked in each corner, Santa Monica Place is artistic, fashion-forward and the classic feel of a mall with a breezy glimpse of the sun so you can still smell the ocean air.
There are special events and pop-up shops that draw big crowds and long lineups so check online before you arrive to plan your visit.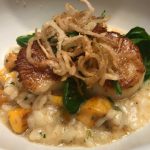 DINNER  North Italia    Even though the weather wasn't ideal, we still wanted to be as close to the ocean for our first night without actually having the feel the mist mixed with the warm rainfall.
North Italia is located on the busy restaurant-filled 2nd Street and although the sliding patio doors were closed enough to protect those sitting at the long bar and few dry patio tables, we could easily imagine coming back on a sunny afternoon to share a few apps with a cold glass of Prosecco.   Check out my review by clicking here!
Thursday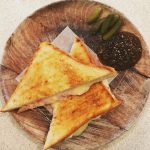 LUNCH  Ester's Wine Bar & Shop     I felt like I had been here before. It was comfortable and easy from the time I walked in and found a seat at the bar.
The menu isn't very extensive but has enough variety to be able to offer patrons with a choice of "perfect pairing" for their choice of wine.
During my lunch visit, I noticed many local residents and office workers stopping by for a lunch order pick-up, so it's obviously a big hit in the area. Check out my review by clicking here!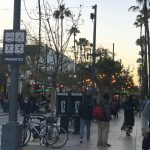 SHOPPING   3rd Street Promenade      If you are looking for find all of the tourists and every teenager in the area, the 3rd Street Promenade is the place to be.
We couldn't tell sometimes, if the perfectly dressed teenage girls were actually shopping in some of these stores or more worried about getting the perfect selfie and possibly being discovered.
On a Friday night, if the weather is alright, there are numerous musicians and small bands playing for tips and possible fame about every 50 feet or so. It isn't unthinkable that you can spend an entire evening on the Promenade and barely make it to the other end.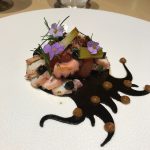 DINNER   The Bazaar by José Andrés  This is my second time visiting this restaurant and again, it didn't disappoint.
Small plates, sharing plates of jamón or cheese, artistic versions of Spanish favourites and everything in between. It is a surprise, an experience and delicious every single time.
This restaurant is located in Beverly Hills (northeast of Santa Monica and about a 20 minute Uber ride) but worth it to get some glamour and fine dining one night during your stay. I included it in this itinerary who want a getaway outside of the usual scene near the ocean.
We love stretching out the evening to include a cocktail or two at the center bar and then finishing the night lounging on an antique sofa next to the patisserie, sipping on a glass of sherry and trying not to eat an entire boxful of bonbons. Check out my review by clicking here!
Friday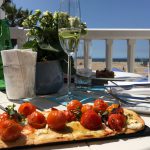 LUNCH   1 Pico     We stumbled upon this little boutique hotel while we were walking south along the boardwalk on Santa Monica Beach.
Our eye immediately was drawn to the pretty, white veranda filled with potted plants and flowers on the second floor of the Shutters On The Beach hotel.
It was too early for a big lunch and too late for breakfast, but I always think it's an appropriate time for a glass of Champagne! The menu has hearty fare, as well, but we opted to snack on tuna tartar and a simple and crisp tomato flatbread to make us feel like summer had already arrived. Check out my review by clicking here!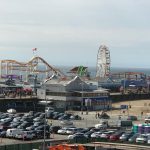 ENTERTAINMENT Santa Monica Pier & Santa Monica Beach    The Pier is one of the most iconic images in all tourist material for the Los Angeles area. It has been the temporary setting for many big movie scenes, music videos and California-themed photo shoots.
There are plenty of amusements and food stands that also seem to spill on to the lower beach level of the pier and therefore show you a glimpse of the long stretch of beach in front of you that just begs to be a shoes-off kind of way to work off that pretzel or hot dog.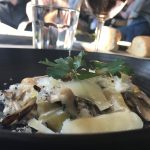 AFTERNOON Drinks & Snacks   Water Grill     My husband doesn't often drag me to a favourite place to visit, let alone just about beg me to try it out, so when our casual afternoon stroll coincidentally ended up within a block from this place, I succumbed.
It turns out that he takes an Uber down here every time he is here for meetings just so he can treat himself with a lunch full of fresh seafood, a crisp glass of chardonnay and a view of the ocean.  Check out my review by clicking here!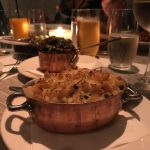 DINNER  The Penthouse     I visited this place for lunch during my first visit to the area a couple of years ago so I was excited to return to try out a full dinner menu, a cocktail or two and a taste of bustling nightlife scene on this busy rooftop location.
We are lucky we had made reservation a week or two beforehand, because we could barely get off the elevator at 7pm on a Friday. There weren't any seats left in the lounge area so half of the people there were standing and chatting in groups with thumping music barely notable above the chatter.
Luckily, the dining room is large enough that we were seated in the farthest corner away from the crowd where we would chat and dine in peace.
...but I may just head back there on my next visit for a night of cocktails only!
Check out my review by clicking here!
Saturday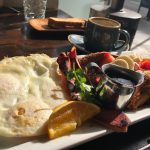 BREAKFAST  Blue Daisy Café     It is one of only 3 or 4 places to dine in the 2-3 block radius of our AirBnb and it was obviously a favourite among our neighbours.
A coffee and a table in the sun was a favourite place of ours to catch up on some email and enjoy watching locals walking their dogs (and there were many!)
Breakfast on a weekend is the busiest for them here at the Café and we are glad we came early enough to get our choice of table before the lineup started that Saturday morning.  Check out my review by clicking here!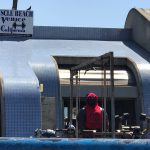 ENTERTAINMENT  Venice Beach & Muscle Beach     We had a late flight booked to return home and an entire day to wander around and catch some much-needed sunshine before we made our way to LAX.
After storing our luggage near the airport, we took an Uber to Venice Beach to slowly peek into all of the shops and watch the showoffs who do everything to get an audience while they work out nearby on Muscle Beach.
AND/OR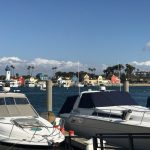 Marina Del Rey   If less tourists and more calm waters are what you are interested in for a sunny Saturday afternoon, there is nothing like boat ogling on the docks of Marina Del Ray. It is a quiet community with high-end row houses and condos that surround several long, secured docks of boats of all shapes and sizes...and sea lions!
That day they were lounging in the sun on every dock that was away from humans.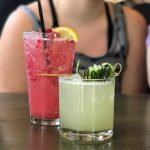 LUNCH   Venice Whaler     When it is a hot Saturday afternoon and you are in need of a break, a cocktail or beer is what you try to sniff out.
Without having to wander to far from the sand is the ideal choice and if you see a busy patio, it is usually a good sign that the food is good, the drinks are cold and they overall have a great reputation.   Check out my review by clicking here!
Make sure to come back to the blog in late May/ early June for the next Travel Log - Wolfville, NS, Canada.