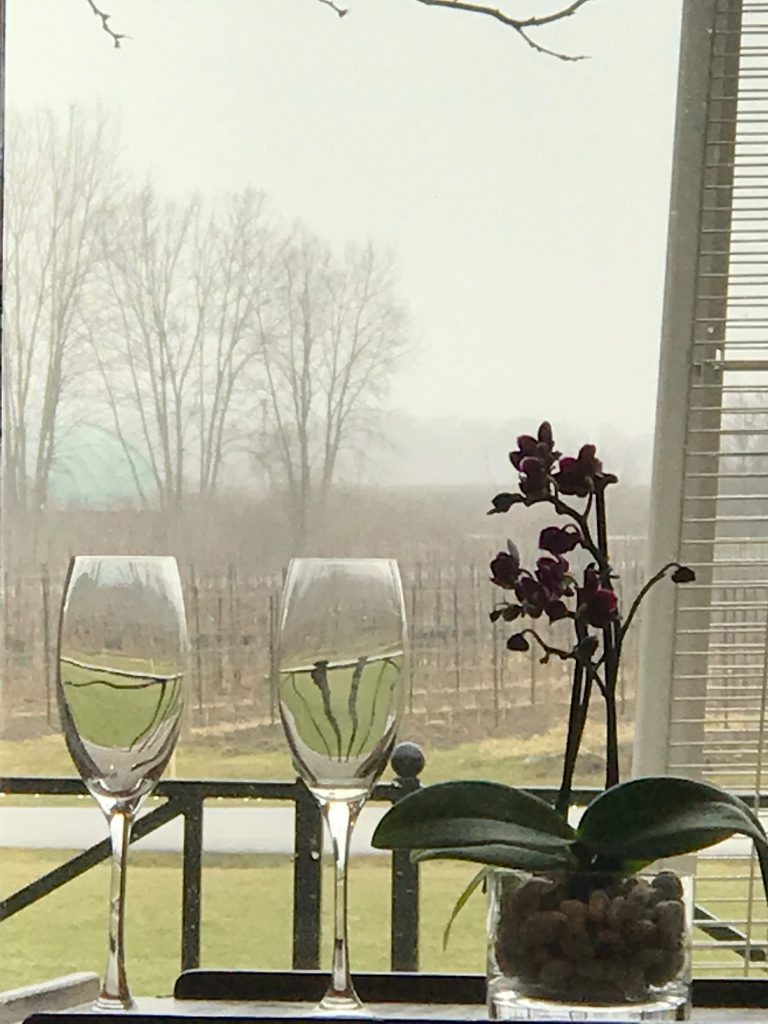 Welcome to the first of my Travel Logs!
I wanted to start documenting the details of weekend getaways to inspire all of the food and wine lovers out there who want to travel to someplace new and NOT have to overthink the planning process.
I am listing the place I stayed, where I ate, where I drank, any other little activities I squeezed in - along with all of the links to the websites so you can make your own reservations (or order some wine for home!).
I chose to start this new blog category with a weekend in Niagara since it is on most Canadian wine-lovers' wish lists for just about any time of the year.
If my husband and I can drive the 5 1/2 hours in the middle of February and have THIS much fun - so can you!
As always...if you have any questions or need other recommendations aside from what is listed here, you know you can always reach me at travelqueen@stephaniepiche.ca
Lodging

I discovered, during my last trip to Niagara-On-The-Lake, that there are more classic inns, cottages and B&Bs in the area than classic hotels.
However, I noticed that they sell out VERY quickly during the high season, so this month was the perfect opportunity for me to try out a suite right downtown.
Luisa's Suite Retreat is centrally located on King Street and is within a block from the Queen/Picton Street shopping area.
For my full review, please click here.
Three Day Travel Log
Note: If anything is available in the LCBO, the name will be highlighted with a link. Otherwise, please visit the producer's website by clicking on their highlighted name.
Friday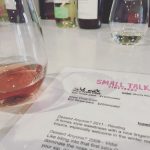 Small Talk Vineyards/Shiny Apple Cider This is one of my favourite places to visit for a leisurely afternoon during patio season. Their brightly-coloured outdoor seating is also next to a large parking lot that allows for occasional tents for local artists to show off their creations, a food truck and coffee service for the afternoon.  I like their wines, but some of their ciders are my favourite take-home treats. If they are making a pear cider that season - grab it! Their classic Shiny Apple and Pinot Noir blends are also worth a try. For a sweet/spicy kick, their Bootleg Cider is fun and reminds me of a cream soda.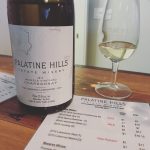 Palatine Hills Estate Winery   The staff are always fun to chat with here and Norm loves to grab a bottle of two of their Lakeshore White blend for twist-off, easy, everyday sipping.
(I am also a fan of grabbing a block of cheese from their little fridge for on-the-road snacking.)
I am a big fan of their Cabernet Franc and a case of their Cabernet Sauvignon Icewine came home after my last visit. 🙂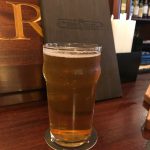 The Irish Harp Pub  Near our suite, there is a coffee shop, grill restaurant and the barely-ever-a-spare-seat-available Irish Harp Pub. We grabbed a beer at the bar, but had to wait 15 minutes standing for that spot. Even the dining tables were full at 4:30pm.
With their large number of taps, trying their beer flights is a good option to start the evening with...or even the Harp sampler!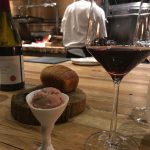 DINNER Backhouse  This is my second time visiting this restaurant and again, it didn't disappoint. Click here for my review...and if you have the time (and the appetite), try one of their tasting menus.
We love sitting at a counter in full view of the kitchen action (instead of standard table seating), so if that's your choice as well, make sure to specify the counter seat when you make your reservation.
Saturday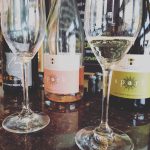 Tawse Winery is one of Niagara's superstars for a reason. The property and tasting room are worth the visit, they have terrific tours and tastings and their wines are always delicious! I make a point of stopping in if I am planning a visit near the Beamsville Bench area.
This visit, I came for more of their Unfiltered Pinot Noir and Spark! Sparkling Rosé. Norm had sampled some of their Spark! Sparkling Cider the night before at Backhouse, so I promised him we would take the drive out of Niagara-On-The-Lake to grab a few bottles to take home. (It was also the first bottle he opened after the long drive home after the weekend...it was THAT good!)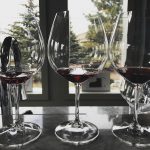 Domaine Queylus is one of my new favourite stops in the Bench area. Their old world, Burgundian style of Chardonnay and Pinot Noir are the closest thing to the French styles that I have tasted here in Canada.
Try the Tradition Chardonnay and Tradition Pinot Noir to start.
Their tasting room is sunny and serene and I was given a quick tour of the rest of the log-style house that will be converted to a second tasting room, conference room with outdoor patio and bocce court in the spring. I will be back for patio sipping soon!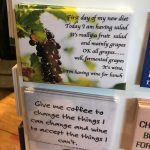 Konzelmann Estate Winery  A bustling tasting room is always a good sign that the wines are popular. Add in a stunning, stone building, knowledgeable and friendly staff, retail space for wine-themed souvenirs (love their magnets!) and you may even forget that this is the only lakefront winery in the area.
My two favourites that came home with me after this visit were the Gewürztraminer and the Sparkling Cuvée Rosé.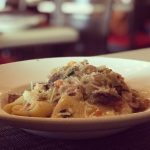 LUNCH Kitchen 76 located at Two Sisters Vineyards seems to be the hottest place to lunch in Niagara-On-The-Lake. Reservations are almost always required and if you are hoping for a patio seat with a view of the vineyards, it is imperative!
The menu is Italian-inspired and is always comforting. A good place to take a much-needed break after the sightseeing and winery visits. They are known for their pizza, but I have always been a bigger fan of their pastas.
Check out my review by clicking here!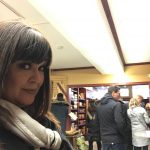 SHOPPING on Queen Street is the ideal way of walking off the big lunch and all that wine! The town has packed in so many interesting shops along both sides of the three-block area that you can easily spend an entire afternoon.
Some of my favourite places were Wine County Vintners (by Wayne Gretzky Estates), Kurtz Culinary Creations for some take-home food gifts and The Exchange Brewery (but we saved a full visit for the next day).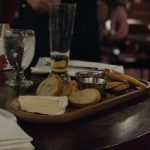 COCKTAILS Churchill Lounge is located in the historic Prince of Wales Hotel right in the center of Niagara-On-The-Lake. A large sprawling property housing many types of lodging, it also has a few well-loved eating establishments to show off. The Lounge is the spot for the quick, casual plate, a pint of beer or that digestif to end an evening with live music, a fireplace and a lot of chatty visitors. We shared a local cheese plate and enjoyed a cocktail before our dinner at Noble.
DINNER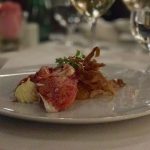 Noble Restaurant is old world charm, local, seasonal fare and one of Wine Spectator Magazine's favourite wine lists. This is the spot for a special occasion dinner focusing on French cuisine and the best of the local wines.
My only regret after my visit is that I had that cheese plate at the lounge so I didn't have room for dessert.
Click here for my full review!
Sunday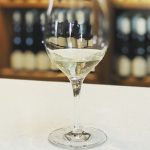 Reif Estate Winery  This was my first visit to this winery and I was very impressed with some of the unique varietals that they are introducing to the area. I loved their Chenin Blanc and Kerner Reserve enough to bring them both home!
I loved their selection enough that I will stop in again when I have more time during my next visit this summer.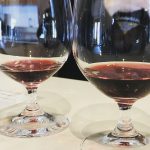 If you think you know the wines of Inniskillin and you haven't visited their winery, you are missing out on some of their best. What they list with the LCBO is only the tip of the iceberg and so we had a fun visit trying everything that was new to us.
I was challenged to a blind Pinot Noir tasting - Montague vs Reserve (and didn't do as well as I thought I would, I admit), but I love them both enough to take home. 🙂     (And the Baco Noir came home, too!)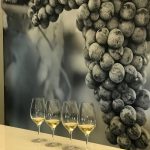 I have had Marynissen Estates in my must-visit lists now since my last visit to the area last summer since my husband is an even bigger fan of Chardonnay than I am and I have heard such great things about what they are producing here.
They are experimenting with different yeast strains, so all you "funky chard" lovers will be thrilled with your visit here!
Not only did they not disappoint, but we brought home several bottles and have already booked another visit this summer to spend the afternoon. Stay tuned over the next few months when I announce a visit and tasting for a Flying For Flavour episode!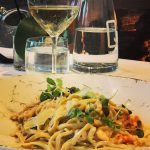 LUNCH Peller Estates has been a favourite dinner reservation of mine since my very first visit to Niagara many years ago. Chef Jason and his team always serve up spectacular cuisine and lavish service. Click here for my full review!
Make sure to save time before or after your meal for sampling in the tasting room next door! My favourite buy right now is the Ice Cuvée Rosé...so I brought home some new glasses AND a few bottles. 🙂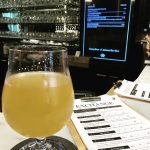 The Exchange Brewery was not in my plans this visit. We tucked in on the rainy afternoon thinking it was a wine bar. We have never seen a PRETTIER brewery! Sleek with dark full-sized bottles of beer, sparkling glassware and a chic black and white colour scheme, they are elevated the art of serving beer to a different level.
As I am currently in love with sours, I took home a couple of growlers of their Brettbier and one of Cerise for my new-to-beer friends.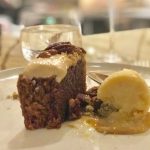 DINNER at Treadwell was the perfect way to conclude our long weekend. The Monday evening at the counter was quiet enough that we could chat with the chefs and still talk to each other about our weekend.  Click here for my review!
A cocktail before dinner and a carrot cake pudding for dessert were both extra splurges that I rewarded myself for that final night...and so should you!
Make sure to come back to the blog in late March/ early April of 2018 for the next Travel Log - Santa Monica, CA, USA.