Instead of posting detailed restaurant reviews on other various sites, I thought having a quick list would be easier to scan through in this format so you can find a restaurant based on the city you are visiting and my overall thoughts on my dining experience.
                       Now - here are the disclaimers...
This list below starts from visits dated June 2015 until today.  I will just continue to add to this list of reviews as I travel going forward.
I have not included reviews here of restaurants that are part of an all-inclusive resort as they usually share the same kitchen and staff within the property. I have just added comments of my dining experiences in the Travel Reviews section.
I have not included reviews of my own local restaurants in Sudbury, Ontario, Canada, here as many of the owners, managers, servers and chefs are friends and colleagues of mine so I know I could not stay impartial.
I have dined in cities all over the world (in 33 countries at this point) and have notes and records of most restaurants I have visited (prior to 2015). If you would like a recommendation for a city that isn't included in this recent list, please email us at: info@stephaniepiche.ca
Happy Dining!
---
---
Want to night out with great cuisine and a chance to learn some great recipes?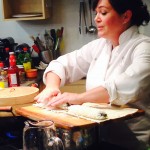 Why not join Stephanie for a cooking class this spring?
So many class themes to choose from - and NO ONE ever leaves hungry!
CLICK HERE to see this season's schedule and for on-line registration.
To book a private class of 8 or more, email us by clicking here